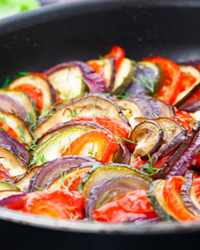 Constantly keeping in the refrigerator «on duty» supply of food, without hesitation any hostess will answer the question: what to cook inexpensive. The main thing is not to stray to the pasta with sausages or meat deshёvenkim unclear of what the beast. Eating cheaply, you must comply with all known balance of proteins, fats and carbohydrates and do not forget about the live vitamins, getting their fresh fruit and vegetables.
You can always save money by completely abandoning the semis. Moreover, this refusal to strongly improve the quality of food, as in all the finished products and semi-finished products contain an incredible amount of salt and preservatives.
We know what to cook cheap can be almost any dish. It is worth paying attention to traditional dishes from cereals, mushrooms, vegetables — of their simplicity (not only in cooking but also in the composition) will help you build ripped malnutrition digestion, improve the body and help those who have long and often unsuccessfully struggling with being overweight.
Our site offers you a selection of recipes that can be prepared inexpensively.
Mushroom soup
Ingredients:
250 g fresh mushrooms or 70g dried,
300 g of cabbage.
1 carrot,
1 onion,
2-3 potatoes,
vegetable oil,
bay leaf,
2-3 pea allspice,
salt and pepper — to taste.
Preparation:
Cut the potatoes into sticks, finely chop the cabbage, carrots grate on medium grater, chop the onion. Carrots and onions fry until soft. Mushrooms cut into slices and fry separately (pre-soak dried). The broth or water lower the potato, cabbage and cook until soft. Then put into the pan fried vegetables and mushrooms, add the bay leaf, allspice, and cook soup until fully cooked.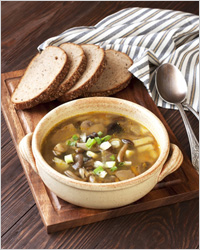 Quick filler pie with onions and egg
Ingredients:
For the dough:
280 g flour,
400 g of yogurt,
2 eggs,
160 g butter,
2 tbsp sugar,
½ tsp salt
1.5 tsp disintegrant.
For the filling:
2 eggs,
green onions,
pepper,
salt.
Preparation:
Cut green onion, a little warm up it with butter, salt, pepper, add the chopped hard-boiled eggs and diced. To make the batter, melt the butter, add sugar and salt, pour in beaten eggs and yogurt. Mix flour with baking powder, add to the liquid mixture and stir until smooth. Form for baking brush with oil and pour into it a little more than half of the dough. Put the stuffing on it and pour the remaining batter. Bake the tart in a preheated 200 ° C oven for 35 minutes. Ready cake cool slightly, cover with a towel, then put out of the mold onto a plate. This recipe is ideal for Multivarki.
Potato «pizza» (a great recipe for «posleprazdnikov»)
Ingredients:
3 boiled potatoes,
2 eggs,
boiled or fried meat,
cheese,
tomato paste,
salt, pepper.
Preparation:
Potatoes grate on grater, drive the egg, salt and pepper. All mix well. Put the potatoes in the shape of the dough for pizza and flatten it, smear of tomato paste. Put the diced meat and cover with cheese. Then put in the oven, preheated to 180 ° C and bake until cheese is melted.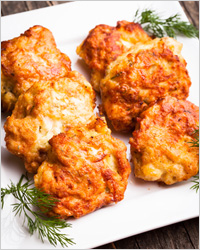 Cutlets from minced chicken with oat flakes «Super curvy»
Ingredients:
500 grams of chicken meat,
1 egg,
½ stack. oat flakes fast preparation,
½ stack. milk (or water)
1 onion,
2 cloves of garlic,
paprika, black pepper, salt — to taste.
Preparation:
egg, mix with milk, pour this mixture of oatmeal and let it sit for 30 minutes. Chop the onion and garlic, add the minced chicken and stir. Add the minced swollen oatmeal, spices and knead thoroughly minced. In a frying pan heat the butter and a spoon lay on her chops. Fry them on both sides, first on high heat, then reduce heat, cover and bring to readiness.
Meatloaf in cheese-potato shell
Ingredients:
250 g of mashed potatoes,
2 tablespoons potato starch,
2 eggs,
1 onion,
2 tablespoons chopped parsley,
150 g of solid cheese,
1 clove of garlic,
2 tablespoons semolina,
500 grams of minced meat,
2 tablespoons breadcrumbs,
½ tsp ground coriander,
salt — to taste.
Preparation:
Add the mashed potatoes 1 tablespoon parsley, 1 egg, 50 g of grated cheese and starch and mix well. On a polyethylene film Put potatoes rectangle 1 cm thick. Chop the onion and garlic and fry in butter, then mix with the meat, semolina, breadcrumbs, coriander, parsley and egg. Season with salt, well mixed, repel and place the stuffing on top of potatoes smaller rectangle. With the help of the film roll to roll. Then carefully remove the tape and roll wrap in foil and several layers of film. Boil roll over low heat 50-60 minutes. Remove from the water and, when slightly cooled, expand and sprinkle on all sides with grated cheese. Put on a baking sheet and place in a preheated 200 ° C oven for 10-15 minutes, the cheese browns.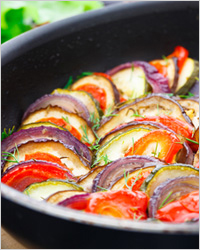 Ratatouille
Ingredients:
1 zucchini,
1 eggplant,
1 bell pepper,
2 tomatoes,
1 onion,
2-3 potatoes,
3 cloves of garlic,
herbs, salt and pepper — to taste.
Preparation:
Potatoes, zucchini, eggplant and bell peppers cut into cubes the same. Fry the potatoes in vegetable oil and add the eggplant, pepper, fry all together and place in a saucepan. Place in a blender peeled tomatoes, onions, garlic and grind into a puree. Pour prepared sauce to the skillet with the vegetables, add to the zucchini, and cook until tender vegetables. Serve the ratatouille lay in a ring around it, pour the sauce and garnish with greens.
Potato cheesecake with chicken
Ingredients:
500 g potatoes,
1 egg,
2 tablespoons flour,
½ tsp salt,
herbs and cheese.
For the filling:
250 g of chicken meat,
2 onions,
1 tbsp mayonnaise,
a little garlic,
spices — to taste.
Preparation:
Fry the minced meat with onions and spices, adding garlic and mayonnaise. Boil potatoes in salted water, drain the water, mash, add egg, flour, herbs. The dough is cool and divide into pieces. Because each piece make a small cake, put them on a greased baking tray and the laid parchment. Each cake grease with beaten egg, put the stuffing on top, sprinkle with grated cheese and bake in the oven at 160 ° C for 30 minutes.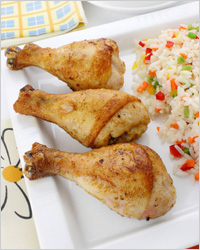 «Lazy legs»
Ingredients:
1 package of chicken drumsticks,
2 carrots,
2 onions,
1 can of canned corn,
1 stack. rice,
500 ml of boiling water or broth,
salt, pepper, paprika, spices — to taste.
Preparation:
onion peel and finely chop. Carrots grate on a grater. Fry in a pan the onion and carrot. Add to the pan washed rice, maize without liquid mix. Transfer the mixture into a mold, pour two cups of boiling water or hot broth. Rub the chicken on all sides with salt, pepper and paprika and place in Fig. Cover with foil, place in oven and bake for 1 hour at 200 ° C.
Onion Roll with chicken stew
Ingredients:
For the dough:
½ stack. water,
1 egg,
1-1.5 stack. flour,
salt.
For the filling:
3 onions,
1 chicken,
1 package (400 g) frozen vegetables,
salt and pepper — to taste.
Preparation:
From the water, eggs, flour, salt and knead the dough, as the dumplings and let it stand for 30 minutes. Cut onion half rings and cook it until tender. Roll out the dough, put fried onions, roll in roll and cut into small slices 4-5 cm in width. Chicken fillet cut into small pieces, fry, add frozen vegetables and warm up a bit. Put onion rolls to chicken and vegetables, add water so that it covers the half rolls. Simmer covered until the water evaporates and then lightly fry.
Patties «Bombs»
Ingredients:
For the dough:
3.5 stack. flour,
1 stack. boiling water,
4 tablespoons vegetable oil,
1 tsp sugar,
1 tsp salt.
For the filling:
5 tomatoes,
200 grams of cheese or cottage cheese,
2 cloves of garlic,
salt, herbs — to taste.
Preparation:
For the filling tomatoes cut into slices, cheese mash with a fork (if using cottage cheese, salt it) squeeze it in chopped garlic, add chopped greens and mix. To prepare the dough stir in boiling water salt and sugar, add the vegetable oil. Water is mixed with flour and knead the dough well. Roll out half the dough into a large thin layer. Put the dough on slices of tomatoes not closer than 3 cm from each other. They lay out the stuffing. Next, roll out the second layer of dough and cover it first with a stuffing. Glasses of suitable diameter, cut along the contours of each patty with tomato slices. Walk with your fingers along the edges of each cake, so they are well scrapie. Fry patties in a large amount of hot vegetable oil on both sides.
Casserole with minced meat and buckwheat
Ingredients:
700 grams of chicken meat,
250 grams of buckwheat,
2 onions,
2 carrots,
2 apples,
120-150 g of cheese.
Preparation:
Cook the buckwheat and cool. Fry in a mixture of butter and vegetable oil onion until soft, cut it into cubes and grated on a coarse grater carrots, cool. Mix with minced chicken, season well, knead until smooth and place a layer of shape. Add the buckwheat peeled and grated on a coarse grater grated apples and cheese, mix well and place, slightly flattening, the second layer in the form below. Bake in the oven at 200 ° C for 25 minutes. Then remove, sprinkle with grated cheese and put back in the oven for 5 minutes.
Lentil casserole with cheese and cottage cheese
Ingredients:
100 g red lentils,
40 g cheese,
40 g of solid cheese,
1 egg,
salt and pepper — to taste.
Preparation:
Cook lentils until cooked cereal in a ratio of water and 1: 2 for 15 minutes with cold water bay. At the end of cooking salt. If after this time in a saucepan there is water, drain it, or boil the lentils a little more without the lid to evaporate the liquid, then refrigerate. Add to it the egg, cottage cheese, grated cheese, salt, pepper and stir everything until smooth. Grease a baking dish with butter, place the lentils and smooth out the surface. Bake in the oven at 180 ° C 30-40 minutes until golden brown.
Boats of puff pastry with potatoes, meat and cucumbers
Ingredients:
1 kg potatoes,
400 g of any meat,
1 onion,
3-4 small pickled cucumbers,
500 g of finished puff dough,
1 egg,
50 g of hard cheese.
Preparation:
Boil potatoes and mash. Meat cut into slices, onion half rings and fry everything follows: meat over high heat, stirring, for 3 minutes, then add the onion, stir, reduce gas and simmer, covered for another 10 minutes. After open the cover and gently over medium heat evaporate the juice of 4 more minutes. Cucumbers cut into slices, if large — straws. Thawed dough, divide into 4 pieces, roll out, lay at the center of 2-3 tablespoons (with slide) prepared puree in the center — fried meat and sliced cucumbers. On the sides make longitudinal cuts and pass one another in the dough strip so that the incision was centered. Gives the product the form boats, Pinch the sides, place on baking sheet, brush with beaten egg chicken, slightly close the center of grated cheese and place in a preheated 180 ° C oven for 25 minutes.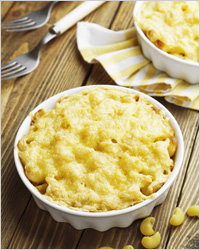 Baked spaghetti with chicken and vegetables
Ingredients:
1 packet of spaghetti,
3 eggs,
1 stack. cream,
200 grams of grated cheese,
2 chicken fillets,
4-6 pickled cucumbers,
3-4 tomatoes,
salt, pepper, sour cream — to taste.
Preparation:
Whisk the eggs with the cream and half of the cheese, salt, pepper and mix the resulting mass with cooked spaghetti. Pour into a greased form, on top Put the mixture of finely chopped fillet and cucumbers, too, a little salt and pepper. Then, lay the slices of sliced tomatoes, take over the entire surface mesh of the sour cream. The last layer — grated cheese. Put the form in the oven, preheated to 200 ° C and bake until cheese is golden-rosy.
Very lazy dumplings
Ingredients:
3 stack. flour,
1 egg,
¾ of stack. water,
½ tsp salt,
carrots,
garlic,
meat,
onion,
salt and pepper — to taste.
Preparation:
Sift the flour, add egg, water and knead the dough. Be sure to leave it on for 30-40 minutes for swelling flour. At this time cook the minced meat, onion, salt, pepper. Roll out the prepared dough sheet thickness of less than 1 millimeter. Put the stuffing on top and roll up into a roll, Pinch long edge. With a knife cut the dough with minced meat on the poles. Put them in a deep frying pan on a «cushion» of fried carrots and garlic, cover with water, cover and simmer over low heat until all the liquid is absorbed. The finished dish sprinkle with fresh chopped herbs.
Rice patties with cheese
Ingredients:
1.5 stack. rice,
2 eggs,
250 grams of cheese,
breadcrumbs,
vegetable oil,
herbs, salt and pepper.
Preparation:
Boil the rice. Grated cheese combine with rice, add the egg yolks, chopped dill, salt and pepper and mix well. From the resulting minced shape oval patties and roll them in the breadcrumbs. Then fry them on a well heated pan with vegetable oil until golden brown.