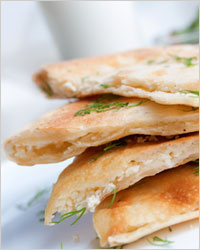 Georgian cuisine has always distinguished the incredible abundance of tasty and varied dishes, a skilful combination in them of all kinds of spices, subtle flavors and richness of some mystery in the name of the dish. For example, khachapuri. On hearing this name, imagination begins to draw some kind of elaborate, gourmet meal, but in fact it turns out that it is simple, incredibly tasty and easy to prepare, which is a pie or cake dough with cheese stuffed inside. The usual tortilla with cheese, but as it sounds!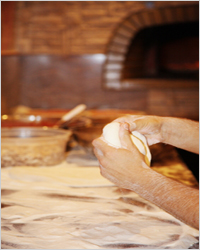 Khachapuri with cheese has long loved not only in Georgia, where they know how to cook every woman, with secrets to each their own. Although if we talk about the secrets, then, according to the Georgian bakers, the secret of baking the most delicious khachapuri is not a form of the product and even filling, a warm heart and skillful hands. Cook khachapuri is really easy, it takes a little time, and the taste … «just spetsfichssky,» as Arkady Raikin. In general, the process of eating does not leave anyone indifferent.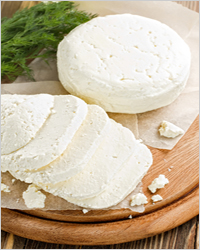 To begin with talk about the test, of which prepare khachapuri with cheese. It may be a puff, yeast, insipid. The finished dough to buy, good choice in any supermarket pleasing to the eye, but it is better to cook it yourself, because the dish is completely cooked with his own hands, it is a hundred times more delicious. This dough is kneaded khachapuri on yogurt (sour-milk drink Caucasian). You can make yogurt yourself. To do this, you need to warm up 3 liters of milk, add 1-2 tbsp sour cream, cover and wrap a towel. In this form 2:00 to stand, and then put in the refrigerator and wait until the mixture thickens. Although yogurt can replace sour or yogurt.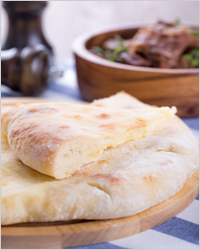 According to the chosen recipe, the dough is kneaded and allowed to rest. This time can be used for the preparation of stuffing, classic version of which — Imereti cheese, but also use other soft cheese or brine, for example, suluguni or cheese. Sometimes they are mixed with cottage cheese and add to the stuffing chopped fresh herbs: parsley, dill, cilantro. If the cheese is too salty, it must be pre-soak of 2 to 5 hours, depending on the degree of salinity. To the cheese quickly freed from salt, a large piece must be cut into slices about two centimeters thick.
Khachapuri form also can be different, they are made on all sides closed or open, in the form of boats or envelopes, oval, triangular, square … But one rule has remained unchanged: the thinner will khachapuri, the better. Stenochku same thickness and evenly distributed within the filling is considered the top of culinary skill. Cook khachapuri with cheese in the oven or on the large flat pan, gently turning them to fry on both sides. Ready khachapuri cheese smeared with butter or ghee. In round khachapuri sometimes cut through the top hole and put a piece of butter on it, and just pour melted butter inside, how much will go down.
Eat khachapuri with cheese, as they say, piping hot, and when cooled, they can be re-heated in the microwave or the oven once more oiled. Taste hot khachapuri with cheese filling fire is impossible to convey in words, you need to try. In order not to throw words to the wind, we suggest you prepare your khachapuri with cheese right now, so that you can experience for yourself the whole process of cooking and enjoy the unusually tasty result.
In fact, recipes khachapuri with cheese is not too much. At first glance they appear to be very similar, but at the same time, each recipe — it's a different story. Georgia preparing khachapuri with cheese on one prescription, in Ossetia — completely different. Somewhere in the stuffing of cheese other than put more and mushrooms, but somewhere — add the potatoes, but these should be khachapuri with cheese and cheese only.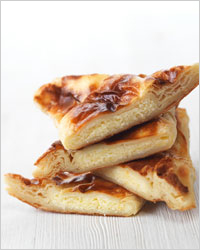 Khachapuri with cheese in Georgian
Ingredients:
5 stack. flour,
1 egg,
500 ml of yogurt or yogurt,
300 grams of cheese,
200 g suluguni,
100 g of Imereti cheese,
1 tsp salt,
1 tsp sugar,
1 tbsp baking powder,
2 tablespoons vegetable oil.
Preparation:
Sift the flour and baking powder, add to it. Make a recess in the flour, pour it in yoghurt, eggs, a little vegetable oil and add salt and sugar. Knead elastic, uncool dough and put it for 1 hour in the refrigerator, wrapped in cellophane. Cheese rub on a grater and stir. After time, remove the dough from the refrigerator, roll it into small pieces round or oval thickness thinner than 1 cm, in the middle of each tortilla Put 5 tbsp cheese and collect the edges of the dough in the «pouch.» Mid leave open. Then gently invert the cake, so as not to spill the cheese, and roll a rolling pin. Preheat the oven or pan, grease with vegetable oil and bake khachapuri cheese up over medium heat. Ready khachapuri grease with butter.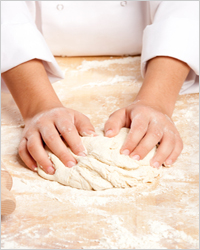 Ajarian khachapuri with cheese
The peculiarity of this kind of khachapuri — an open top. use is not very salty soft cheese For the stuffing (Imereti), but you can take Adyghe or other soft pickled cheese. Traditionally, the dough is kneaded in the yoghurt, but instead it will fit sour cream or yogurt. When khachapuri bake in the middle of each, you can drive a hen's egg or a couple of quail and put in 1 minute in the oven to curled protein and the yolk with the remaining liquid. The egg is dipped broken off a small piece of khachapuri and eat. Nourishing quickly — a good idea for dinner!
Ingredients:
For the dough:
3 stack. flour,
1 stack. sour cream,
50 g butter,
1 tsp salt,
½ tsp soda.
For the filling:
400 g of soft cheese,
1 egg,
greens.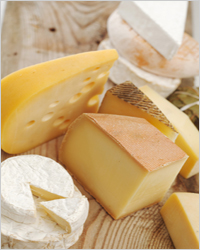 Preparation:
Crumble the flour in butter, sprinkle in salt and baking soda. Pour the sour cream and knead the mass is at least 15 minutes. It must be elastic. Then place the dough in the fridge for 30 minutes. Crush cheese for the filling by using floats, or just tolkushkoy hands. Beat the egg and add the chopped parsley. If necessary, lightly salt the resulting mass. Divide the dough into 8 pieces, roll them into small balls, which are then roll into tortillas. Each cake Put cheese with greens and smooth out the filling to the brim. Now pick up a burrito in the boat. To do this, one end of tortilla roll in roll half, then do the same with the second edge. Be sure to pinch the ends that the stuffing does not fall out. You should get a boat with an open top. Bake in preheated your boat up to 180-200 ° C oven for about 20 minutes. Strongly do not fry, just Brown the lightly. The boat lay ready hot butter.
Imeretinsky khachapuri with cheese
Ingredients:
For the dough:
3 stack. flour,
1 stack. yogurt,
1 egg,
1 tsp sugar,
1 tsp salt,
½ tsp soda,
2 tablespoons vegetable oil
For the filling:
400 g of solid cheese,
1 egg.
For the lubrication of:
50 g of butter.
Preparation:
Stir in yogurt soda, vegetable oil, salt and sugar, hammer egg. The resulting mixture, add 2 cups of flour. Knead a soft, slightly sticky dough, podsypaya remaining flour, but do not overdo it with the amount, the dough should be good to keep the shape. Leave the dough, cover with a cloth, alone for 30 minutes. Cheese rub on a coarse grater, drive the egg and mix well. Roll out the dough sausage, which cut across the 8-10 pieces. Each piece of roll in cake and place the stuffing. Gather the edges of the top and a good pinch. Turn the resulting bag, press down hands and gently roll the rolling pin. Then turn the bag again and again roll. Just do not push hard, so that the dough does not snapped. Ready-made cakes lay on a dry frying pan and bake at moderate heat on both sides. If khachapuri turned out plump, cover so that they are well roasted. Ready khachapuri grease with butter.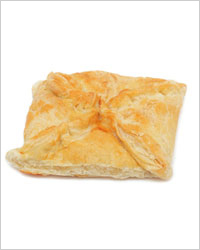 Khachapuri with cheese in Kolkh
Khachapuri feature of these is that the stuffing spread not only inside, but also on top of cakes, such as pizza, pre-lubricated surface of the egg. Ingredients are listed on one big cake, baked from dough. Instead of cheese you can take suluguni not too salty cheese.
Ingredients:
To test:
300 g of flour,
200 ml of water and
1 tablespoon sugar,
1 tsp salt,
½ tsp dry yeast,
50 g of margarine or butter.
For the filling:
350 g suluguni,
1 egg yolk.
Preparation:
Add the warm water, salt, sugar, add flour, yeast and knead the dough loosely. Add softened margarine or butter, knead until smooth and leave for 1 hour, covered with a towel. Grate the cheese on a coarse grater (a little grated cheese put off to the side). Approached Punch the dough, roll into a cake, put on her stuffing, lift and pinch the edges to the center. Then roll out with a rolling pin on both sides and make a hole in the middle (5-7 mm in diameter). Put the cake on a greased baking sheet, brush with egg yolk surface of cakes to bake-formed beautiful crust. Sprinkle with remaining cheese and place in a preheated 200 ° C oven for 20 minutes.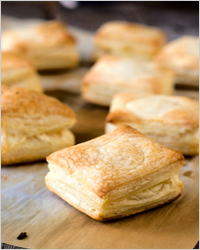 Khachapuri with cheese at home
They can be prepared on the basis of cottage cheese dough, it does not get stale for a long time. These cakes most delicious hot. For the filling in them can take any cheese, which exists in the house, suitable even processed cheese.
Ingredients:
For the dough:
200 g margarine or butter,
200 grams of cottage cheese,
2 eggs,
flour (how many will take the dough),
1 tbsp (incomplete) of vinegar,
1 tsp (no slides) of soda,
a pinch of salt.
For the filling:
300-400 g of any cheese or processed cheese 4,
4 tbsp sour cream,
3 cloves of garlic,
herbs — to taste,
1 egg yolk — for lubrication,
a little sesame seeds — for sprinkling.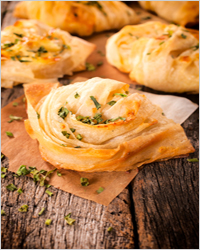 Preparation:
Melt margarine or butter, drive the egg, salt, to mix grated cheese through a sieve. Pour vinegar. Stir the flour mixed with baking soda, knead the dough and put it in the fridge for a while. On a coarse grater grate cheese, add the sour cream, chopped herbs and chopped garlic. If the cheese is very salty, slightly podsolite resulting mass. Divide the dough into 2 equal parts. One roll into a round cake, transfer to a baking sheet and place on it all the stuffing, cover with second tortilla and pinch the rolled in a circle. Lightly press the stuffing with a rolling pin. Grease the top of egg yolk and sprinkle with sesame seeds. Place the baking sheet in a preheated 180 ° C oven and bake for 40-50 minutes. Pulling out of the oven, cut into triangles ready dish and serve.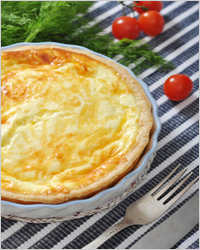 Quick khachapuri with cheese
Ingredients:
100 Lavash,
100 g of cheese,
100 grams of cottage cheese,
1 egg,
1 clove of garlic,
cilantro, parsley — to taste.
Preparation:
Mix together the cheese and cottage cheese, add to the weight of the crushed garlic and chopped herbs. Pita bread cut with scissors into large squares, put stuffing inside each square, fold the envelope, brush with egg and bake in the oven at 200 ° C for 5-10 minutes.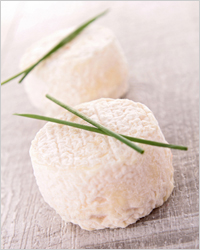 Khachapuri from biscuit dough with cheese
Ingredients:
For the dough:
1 kg flour,
1.5 stack. milk,
½ stack. melted butter,
2 eggs,
½ tsp soda,
1 tablespoon wine vinegar.
For the filling:
500 g young brine cheese,
2 eggs.
Preparation:
Spread the cheese and mix it with two eggs. The rest of the eggs, beat butter, add soda and stir. Then add the milk and vinegar and gradually pour the liquid mass in the sifted flour. Knead the dough, divide it into 2 parts and roll each thinly. Sprinkle with flour and place the pan on it one cake, top evenly lay out the stuffing, cover with second tortilla tightly pinch the edges and bake in a preheated 180 ° C oven for 20-30 minutes.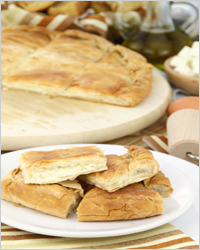 Khachapuri puff pastry
Ingredients:
500 g of finished puff pastry,
1 egg,
500 g suluguni (Imereti cheese or cheese).
Preparation:
Roll out the puff pastry cakes 3-5 mm thick. In the middle lay out the stuffing of grated cheese with a lightly beaten egg. Wrap tortillas edge of the envelope and blind them so that the filling in the middle remained open. Bake in the oven until cooked. Hot khachapuri grease with butter.
You can only attach to the suggested recipes his skillful hands and add a piece of his golden heart and your khachapuri cheese will turn out well.
Bon appetit and new culinary discoveries!