Every self-respecting hostess should be able to cook jelly. All the more so in front of this dish will hardly be able to resist at least one man. On New Year's holidays jelly it is very popular and in demand snack, which usually breaks into «Cheers» and is eaten with great pleasure. Virtually none of the New Year — and indeed a celebration — a feast is complete without this dish. Aspic — is not only a very tasty and appetizing dish with amazing taste, suitable for any occasion. This snack is also very helpful for the normal functioning of our joints. Part of the aspic collagen positive effect on the joints, protecting them from damage and destruction. However, in aspic also contain a lot of cholesterol, so not too often recommended to use it.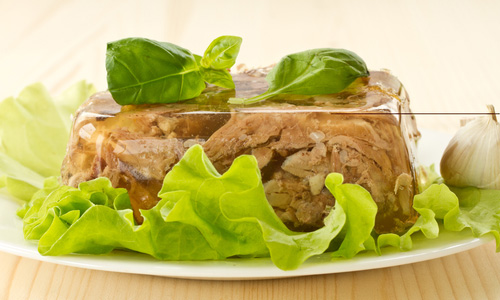 Jelly can be cooked with beef, chicken, turkey, but today on the agenda we have nourishing and delicious pork aspic. This dish — a hearty and nutritious cold appetizer and a great addition to a variety of side dishes. Level aspic cooking skills is determined, above all, the way it is made — with the addition of gelatin or without gelatin. Horse riding is a skill, of course, jelly without gelatine, which will be discussed in our article. Cook pork jelly without gelatine is not so difficult — to do this, just need to choose the right meat and bones, pour the right amount of water and cook for a certain time. In this case, the jelly hardens itself through a gelling agent, released from the bones when cooked. To prepare aspic pork is best to take the leg, shank, head, tail and ears. An important point in the preparation of influencing the solidification of aspic is water. Meat should only be poured cold water. The main thing in this process — to calculate the amount of water. Water need not completely cover the meat, otherwise you might get a very liquid jelly, which will not be able to freeze without gelatin. But very little water, too bad, because the jelly turned out pretty cool. This is perhaps the most difficult moment in the whole process of its preparation. But everything comes with experience. It is generally accepted that the water was above the level of meat by about 2 cm, and most importantly -. Cook jelly at least 6-8 hours. This will get the fragrant rich broth, which is great hardens.
Preparing aspic, of course, requires patience. Although the duration of cooking, jelly convenient because most of the work for you to make a stove and refrigerator. When buying meat and bones, choose only fresh parts — of them will turn out flavorful broth, and, hence, a delicious jelly. Home pork — a pledge of good taste aspic, so pay attention to the origin of meat at purchase. To the dish was well received by the consistency of jelly, it is best to use your feet, shank and tail.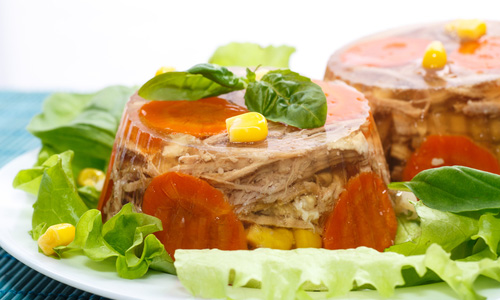 Before you cook jelly, it is recommended to thoroughly clean the pork and soak it for 2-3 hours in cold water, changing the water several times. This will remove the blood clots and other particles, so you'll have a clear broth and therefore beautiful transparent jelly. To avoid turbidity aspic, it is also recommended to merge the first water after boiling products formed regularly removed during the preparation of foam, avoid intense boiling broth and strain the broth before pouring in forms through cheesecloth, folded into 2-4 layers. Unchanged «attributes» are tasty aspic onion, carrot, garlic, pepper and bay leaf. Onions (dry upper scales) and carrot broth will give an appetizing golden color, and garlic and spices — excellent flavor. Adding herbs, such as parsley or celery root, also improve the taste of the final food.
So, to prepare the jelly, you need to pour the meat with bones in cold water in a saucepan, bring to a boil over high heat, remove the foam, reduce heat and cook for about 4 hours. After that, the broth must add the vegetables (one hour before end of cooking) and spices (half an hour until cooked). To salt the dish is recommended for about an hour before removing the pan from the stove. Ready broth must be allowed to cool for half an hour, and then proceed to «indiscriminately» aspic, consisting in meat separated from the bones. The ground meat must be mixed with finely chopped garlic, spread out on the forms and pour the strained broth. You can leave a layer of meat separately, and you can mix the meat with the broth. Writing aspic cool to room temperature, and then send the dish in a refrigerator for final hardening. On average, brawn freezes for about 10 hours. In no case do not use the pour jellied meat freezer as it will spoil the taste of quality dishes.
If you want to make your jelly exclusive and unique, we advise you to decorate it, so much so that all the guests gasped. To this end, the bottom of the mold for aspic lay a plastic wrap and place in the bottom of figurines made of vegetables cut using metal molds, for example, sprockets of carrot, radish snowflakes and Christmas trees of green peppers. After that, pour the jelly according to the instructions, and when it will be ready — turn it on a dish. Aspic can also decorate with greens and slices of boiled eggs. Jelly is traditionally served with sliced ​​into pieces with mustard and horseradish.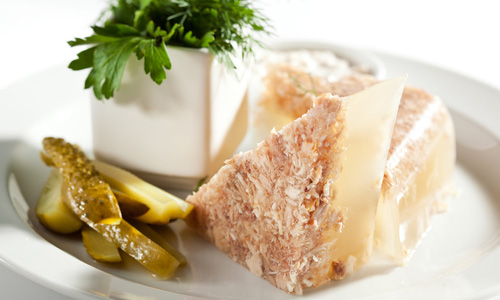 Every housewife has her own recipe for aspic, which makes this dish so unique. Recipes to share with you and we. We suggest to start with aspic pork shank, which, thanks to its taste, no doubt, will give odds to any snacks on New Year's table. Choosing shin, see that it was pink inside and the light on the surface without any spots. When pressing on the skin should feel its elasticity. Regarding the hardening of the aspic can not survive — a large number of gelling agents is contained in the knuckle.
Jellied pork shank
Ingredients:
1.5 kg pork shank
2-3 onions
2 carrots
3-5 garlic cloves
salt
pepper
bay leaf
Preparation:
Pour the meat with cold water and bring the water to a boil. When the water boils, drain it, rinse the meat under running water, then fill the pot with fresh water. Again, bring the water to a boil, then reduce heat and simmer on low heat. Pan you must cover, leaving a small opening for steam to escape. After 5-6 hours, add the broth peeled carrots and onions. Bulbs can also be put in a husk, thoroughly rinsing them — this will give the broth a beautiful shade. For half an hour until cooked add salt and spices.
When the meat is cooked, remove it from the pan and divided into pieces. Mix the meat with crushed garlic and put into a mold for aspic. Garnish with slices of carrots and pour the strained broth. Writing aspic cool at room temperature, then put into the refrigerator to complete solidification.
Few people know that the tradition of cooking jellied pork legs to its roots in the 17th century, when cheap and thrifty peasants tried to use all parts of the animal after slaughter to ensure that no valuable product was not thrown. Jellied pork legs — accessible, inexpensive and extremely tasty snack, which can become a real decoration of the festive evening. Do not neglect the addition of celery dish and parsley root — it is able to give the green aspic unique spicy flavor.
Jellied pork legs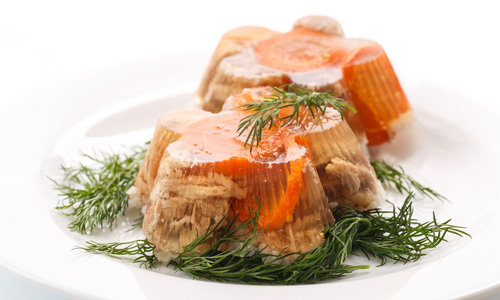 Ingredients:
1.5 kg of pork leg
1 onion
2 carrots
1 parsley root
1 celery
4 bay leaves
3-4 juniper berries (optional)
3-4 cloves of garlic
dill
salt
Preparation:
Wash and clean the pig's feet. If they have hair, they need to singe. Divide the legs into two pieces, put in a large pot and cover with water. Give the water boil, removing the foam as it is formed. Cover the pan with a lid and simmer for about 3 hours. Then add the vegetables and cook for another 2 hours. Add bay leaf and juniper berries, if they are used. Cook for another 30-60 minutes.
The finished meat is minced and put in forms, sprinkled with chopped dill. Meat broth with salt and mix with the garlic passed through the press. Give a little brew, strain and pour the broth meat. Cool.
Pork jelly can be prepared from various parts of the animal, including the head. Pork head rarely popular with consumers, and it is in vain, because the jelly out of it is obtained simply excellent. In addition, the cost of this part of the carcass at times lower than the other pieces of meat, so the jelly out quite economical. From a pig's head would be about 1.5-2 liters aspic. Jellied pig's head is also referred Selz. Its main difference from the aspic of other kinds of meat — an extraordinary density. Brawn can supplement the daily menu, as well as become a dish festive table. Buying a pig's head, ask the butcher immediately cut it into several parts, so how to do it at home will be very problematic.
Jellied pig's head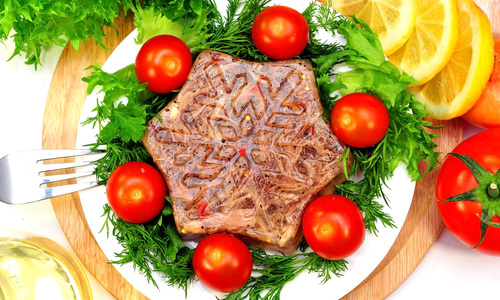 Ingredients:
1/2 a pig's head (4-5 kg)
2 carrots
2 onions
5-6 pea black pepper
3-4 bay leaves
3-4 cloves garlic
1 tablespoon salt, or to taste
Preparation:
Thoroughly wash the pig's head, remove the eyes and tongue. To prepare aspic half pig's head is best cut into 3-4 parts. Put the meat in a large pot, cover with water, and over high heat bring to a boil. Drain, add water again, not fully cover and cook for 4.5 hours.
Add peeled onions and carrots, and after half an hour add spices and salt. Boil for 30 minutes. Give the finished broth to cool slightly, then disassemble the head, removing cartilage and bone. The meat must be cut and put in a mold for aspic, mixed with garlic, finely chopped or passed through the press. Boiled carrots cut into slices and lay on top of the meat. Strain the broth and pour over meat. Refrigerate until complete solidification.
Today jellied pork served on the table as a festive traditional dishes, but if you delve into the history, not always in Russia, this food is considered worthy of celebration. In wealthy homes after the feast gathered the remnants of meat, pour broth and insisted on the cold — such second-rate food is usually fed servants. New taste and sophistication of aspic given French chefs once in Russia came the fashion for all the French. We suggest you cook quite unbanal jelly, which is a combination of delicate jelly and crunchy cartilaginous ears. Jellied pork ears — for a gourmet meal, which, as they say, the ears will not drag. This kind of aspic meat lovers will appreciate hryaschik in any form.
Jellied pork ears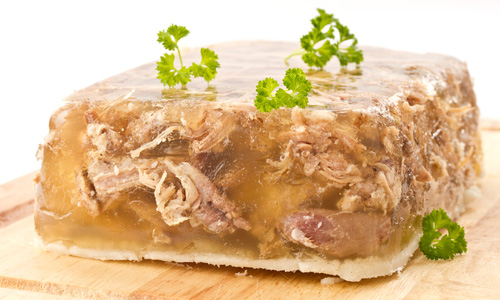 Ingredients:
1 kg of pork ears
1 onion
1 carrot
5 peas of black pepper
3 bay leaves
2 cloves of garlic
salt to taste
parsley
Preparation:
Pork ears Always flush and clean, especially in hard to reach places. Firmly put the ears in a pot and fill it with water. Bring to a boil, remove with a slotted spoon formed foam, do not fully cover and cook for about 3 hours. Then add the peeled vegetables, and for half an hour until cooked — bell pepper and bay leaf. Add salt broth at the end of cooking.
At the bottom of the forms for aspic nicely lay sliced carrots, top with chopped pig ears, mixed with crushed garlic. Pour the strained broth and sprinkle with parsley. Put in the fridge to harden.
Finally, the last in the list of options swine aspic — jellied pig tails. Many vain underestimate this ugly part of the carcass, while the jelly with the addition of pork tails very quickly hardens, because tendons contain a lot of gelling agents. Since meat in pig tails quite small, they are best used with other parts of carcasses, such as legs.
Jellied pig tails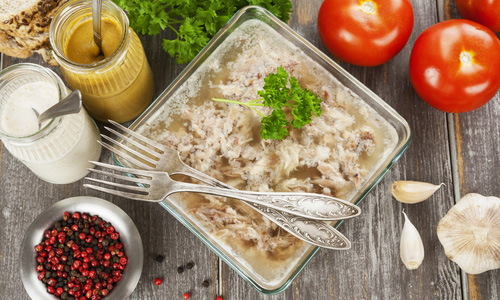 Ingredients:
500 g pork tail
1 kg of pork legs
1 carrot
1 onion
1 teaspoon peppercorns
2-3 cloves of garlic
salt Preparation: Pork tails, and feet are washed, cleaned of bristles, put in a saucepan and cover with cold water. Wait for after the moment of boiling for 5 minutes and drain the water and replace it in the net. Meat before it is best cleaned under running water. Cook with the lid on for 3 hours, then add the peeled onion and carrot. After a couple of hours to add peppercorns and cook for a further 1 hour. Add salt to taste before the end of cooking. Remove the meat from the tails and grind together with meat from the legs. Mix the meat with finely chopped garlic, spread out on the forms and pour the strained broth. Wait for complete hardening in the refrigerator and serve.


Pork jelly — a beautiful winter snack, which will decorate your desk and appreciate all the wonderful taste of the audience behind him. Use our tips for cooking pork aspic and you can rest assured that your family and friends will not thank you again for this dish.