Apples are one of the most popular and inexpensive fruits, but if you are tired there is this fruit in its natural state, why not try to cook it in the oven? Baked apples — this is not only a very tasty dish, but also useful and nutritious dessert flavorful piece of home comfort, warming his warmth.
Baked apples can be cooked all year round, do not worry about the figure. Due to the large amount of pectin is a dish has a positive effect on digestion, a long time retains a sense of satiety and prevents overeating. Apples are cooked in the oven — this is the case, when the fruits are not only tasty but also very useful. A large number of vitamins and minerals contained in this dessert, baked apples make one of the most useful treats. Apples in the oven — this is a full breakfast, and a great dessert and beautifully decorated baked apples can be a real festive table decoration.
The traditional recipe of baked apples includes spices such as cinnamon, nutmeg or ginger, various add-ons to choose from, such as raisins or nuts, as well as some forms of sweeteners such as sugar or syrup. For baking, choose a medium-sized fruit, as large apples prepared for too long. To prepare in the oven best suited varieties such as Antonovka, Simirenko, Gala, Granny Smith, Golden Delicious, Jonathan, Jonagold and McIntosh — they have a firm texture that does not fall apart during cooking and preserves the fruit shape. If you do not like the apples with the skin, clean it. However, note that, after baking, you can also easily remove the skin.
To cook baked apples stuffed initially need to be well washed, cut the tops and remove the core with a metal spoon or a special device. The hole should be at least 3 cm wide. Do not forget to leave the lower part of the apple intact — the thickness of the lower part should be at least 1.5 cm If you remove the core from the apples, try to cook them immediately in order to prevent darkening of the flesh.. If this is not possible, apples can sprinkle with lemon juice and place in the water mixed with lemon juice in a ratio of 3: 1. In this case, apples should be used within two hours after the addition of lemon water.
Hole in apples need to fill stuffing, versions of which are extremely varied and give the opportunity to experiment. Before baking apples on top of you can put a small piece of butter. When the butter is melted and mixed with sugar, it becomes a kind of sauce. Do not use too much oil — for each apple will be enough 5-8, the If a recipe calls for adding water, make sure to add it. This will prevent the burning of apples and protect them from dryness. In addition, during the preparation of the water mixed with the juice of apples stand out, with the result that you get some kind of sauce.
Apples can be considered ready when their flesh is tender and easily pierced with a knife or fork. Before serving apples need a little stand to cool. Do not try to eat them right away, as they are very hot. Baked apples can be served with juice, which remained in the form or on a baking sheet after cooking, with vanilla ice cream, whipped cream, jam and various syrups. Store baked apples in a cool place — preferably in the refrigerator — away from products with very distinct smells. Cooked apples are best eaten within 4 days.
There are many different ways to bake apples — about them, and we'll tell you. Apples, oven baked with walnuts and raisins, can be a great nutritious breakfast not only for adults but also for kids — from such courses will not be able to refuse even the most finicky eaters.
Baked apples with nuts and raisins
Ingredients:
4 large apples
50 g of sugar
1 teaspoon cinnamon
30 g walnuts
40 g raisins
15 g butter
180 ml of hot water
Preparation:
Preheat oven to 190 degrees. In apples cut off the top and remove the core. In a bowl, mix the sugar and cinnamon and spread the resulting mixture between the apples. On each apple should take about 1 tablespoon of the mixture. Add chopped nuts and chopped raisins. Put on top of a small piece of butter.
Put the apples in a baking dish and pour hot water. This will help prevent sticking apples at the bottom. Bake the apples from 30 to 45 minutes.
Bake the apples can not only in the oven and in the microwave. Using the microwave oven can significantly reduce the cooking time dessert.
Baked apples in the microwave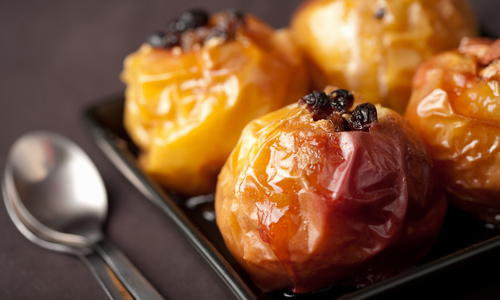 Ingredients:
2 apples
10 g butter
2 tablespoons sugar
1 teaspoon ground nutmeg
1 teaspoon ground cinnamon
Preparation:
Cut off the top with apples and remove the core. In a bowl, mix the brown sugar, cinnamon and nutmeg and add the mixture into each apple — about 1 tablespoon in each fruit. Put a piece of butter on top.
Put the apples in the dish, which can be used in a microwave oven, and cover with plastic wrap. It is best to use a dish with high sides to prevent leakage of juice. Bake apples, on average, about 5 minutes. Keep in mind that all microwaves are slightly different from each other as apples and different varieties, so your apples may be ready a little earlier or a little later. Willingness to check the apples with a knife or fork — the flesh must be very soft. Before serving, let the apples cool down for a few minutes.
Baked apples with cranberry orange sauce — bright and fragrant dessert that will decorate any holiday celebration. This dish is perfect for the winter, as the fragrant spices immediately fill your house with the aroma of the New Year. This dessert is wonderful served with a scoop of vanilla ice cream or whipped cream.
Baked apples with cranberries and orange zest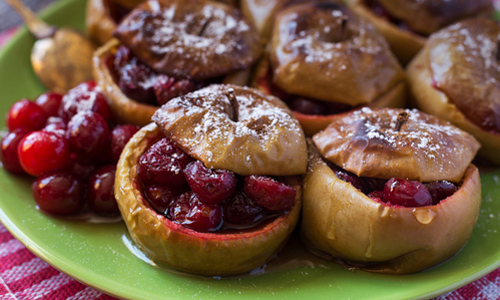 Ingredients:
4 medium apples
2 oranges
2 cups cranberries
50 g sugar
20 g butter
1 tablespoon ground cinnamon
1 tablespoon ground ginger
1 cinnamon stick
5 pieces of cloves
50 ml of hot water
Preparation:
Remove the zest from one orange. Boil chopped zest of 1 liter of water for 10 minutes. Drain the water and put the zest aside. Preheat oven to 200 degrees. Cut off the top with each apple and remove the core. The tops of the apples to save.
Put the apples in a baking dish and spread evenly between the two half cranberries, half orange peel, juice of one orange, sugar, ground cinnamon, and butter. Close the tops of the apples. Squeeze the juice of the second orange, diluted with water and poured into a mold, adding the remaining cranberries and zest, and a little sugar to taste. Put in the form of a stick of cinnamon, cloves and place in the oven for 30-40 minutes. Cooking the apples to cool for 10 minutes, put on a serving dish and serve with sauce.
Light sweet dessert of baked apples with oatmeal and dried fruit — a great start to the day or the end of the evening. For the filling you can take any dried fruit to your taste, for example, prunes, dried apricots, raisins, figs, dates or dried cherries.
Baked apples with oatmeal and dried fruit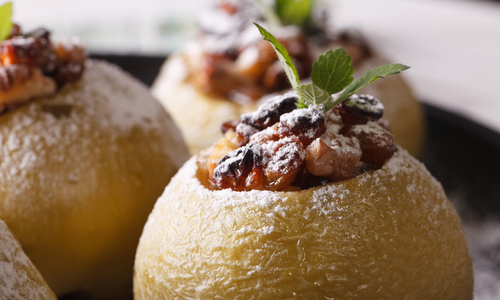 Ingredients:
4 medium apples
50 g sugar
100 g oat flakes
100 g dried fruit
1/2 teaspoon cinnamon
1/4 teaspoon nutmeg
pinch of ground cloves
15 g butter
1 cup of hot water
Preparation:
Cut apple in the upper part and remove the core, leaving the average wall thickness. Mix oatmeal with sugar, chopped dried fruits and spices and spread the stuffing between the apples. Put the apples in a baking dish, put on top of each slice of apple butter, pour in hot water and form loosely cover the top with aluminum foil. Bake for 20 minutes, then remove foil and bake for another 20 to 30 minutes, until the apples are tender and begin to secrete juice.
If you want something unusual, and at hand was not no fillers for apples, look for our next recipe. Caramel sauce — a classic addition to baked apples, which gives this simple dessert flavor.
Baked apples with caramel sauce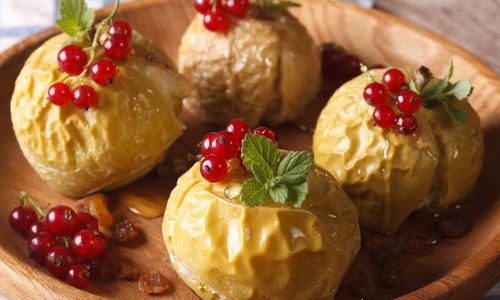 Ingredients:
4 medium apples
4 tablespoons sugar
1 table spoon of cinnamon
to the sauce:
20g butter
5 tablespoons sugar
1/4 teaspoon salt
100ml double cream
Preparation:
Make a small indentation on the top surface of the apple, but do not remove the core completely. Fill the sugar produced recess (1 tablespoon sugar apple), and sprinkle with cinnamon. Bake the apples in the oven at 170 degrees for about 35-40 minutes.
To prepare the sauce, mix in a pot of butter, sugar, salt and cream and cook over low heat, stirring until sugar dissolves. Increase heat to high and cook the sauce for 2 minutes, then allow to cool to room temperature. Drizzle apples ready prepared sauce and serve.
You can cook baked apples, using any of our recipes or supplementing the proposed options ingredients to your taste. Get inspired and experiment!